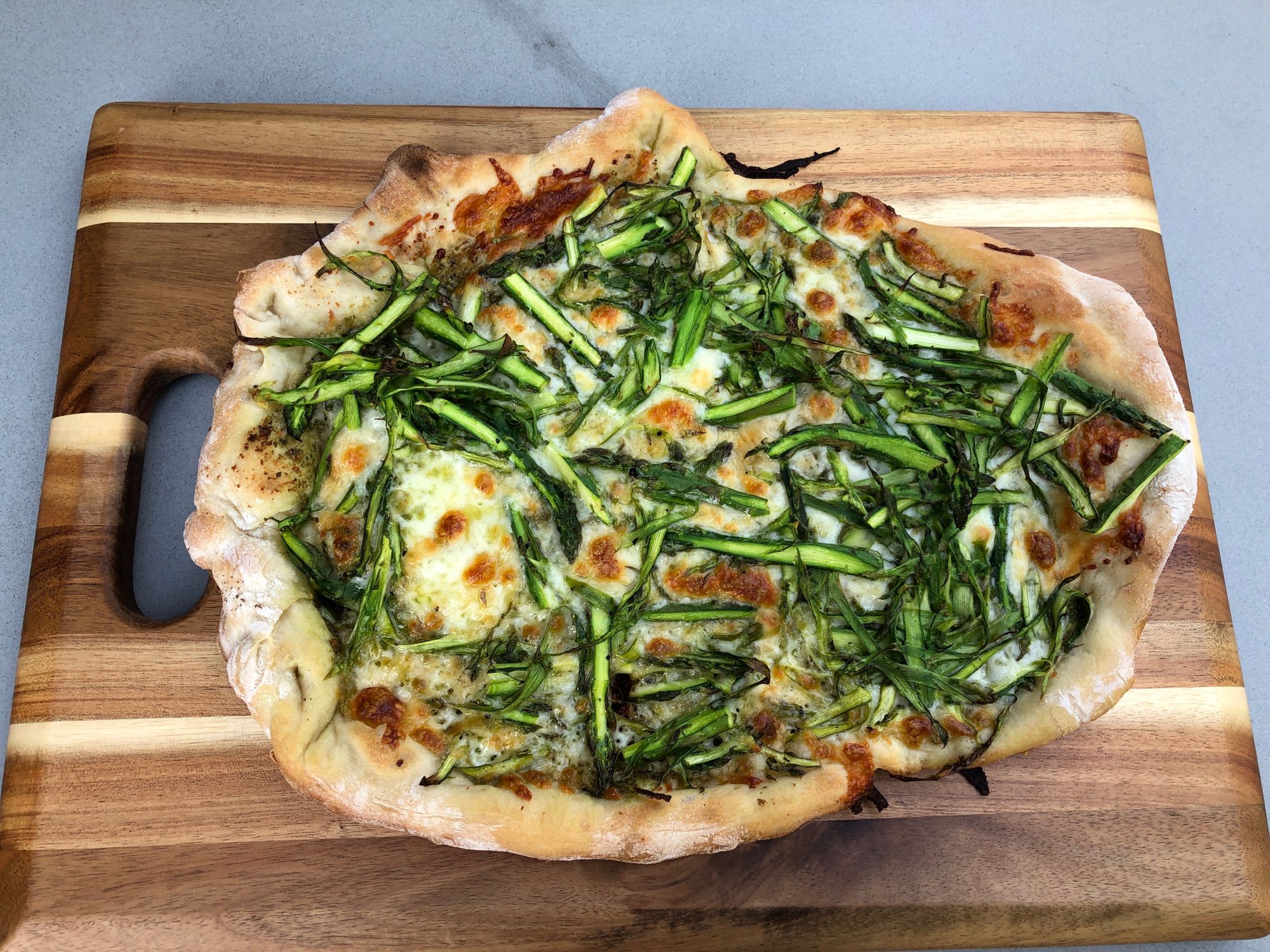 Lately, we've been making pizza on our grill almost once a week. It's one of our favorite things to make when we have friends over for dinner. A friend asked for our recipe, and I wrote out the following instructions. Then another friend asked, so I've decided to publish them here for all y'all to enjoy.
If you ever doubted my nerd factor, these pizza instructions should remove any and all last bits of doubt. There is serious nerdiness here!
I was told by the person who got me into making pizzas that every ingredient matters. It's my duty to pass on that wisdom to you.
PIZZA DOUGH
INGREDIENTS:
1 cup OO pizza flour (Most grocery stores carry the 00 pizza flour. You can also get it on Amazon.)
1 cup organic unbleached all purpose flour (I like Bob's Red Mill, but there are many options.)
1 teaspoon Kosher salt (Big fan of Diamond salt.)
1 cup warm tap water
1 teaspoon yeast (We have this kind.)
1 teaspoon olive oil (organic, extra virgin)
INSTRUCTIONS:
This will make 2 pizzas.
It's best to make the dough at least 24 hours in advance, but ~4 hours works, too.
In large bowl combine:
1 cup OO pizza flour
1 cup organic all purpose flour
1 teaspoon Kosher salt
In small bowl combine:
1 cup warm tap water
1 teaspoon yeast
1 teaspoon olive oil
Add wet ingredients to the dry ingredients bowl that has the flour and salt. Mix/kneed for 3 minutes. Add more flour as needed so dough is not sticky. If it's sticking to your fingers, add more flour! Let rest for 15 minutes. Kneed again for another 3 more minutes. Then cover.
If you make the dough 24 hours in advance, put it in the fridge, and then take it out to sit at room temperature about 4 hours before you are going to make the pizza. If you make it ~4 hours in advance, then just keep it covered at room temperature.
The dough should rise to about double in size.
TOMATO PIZZA SAUCE
This is usually enough sauce for up to 4 pizzas.
INGREDIENTS:
1 28 oz can D.O.P. whole tomatoes (You really want the DOP tomatoes!)
1 teaspoon Kosher salt
INSTRUCTIONS:
Take each tomato one-by-one out of the can and individually squeeze/crumble it through your fingers over a medium-sized bowl. You don't want all the juice from the can or else your sauce will be too runny. Add 1 teaspoon salt. I often will blend up the tomatoes and salt in a blender, especially when serving kids. For adults, some pulp or tomato chunks are usually fine.
This is optional, but you could add a pinch of dried oregano, ground pepper, a couple tablespoons of olive oil, basil, a clove of minced garlic, or even a pinch of red chili pepper flakes. For a truly classic and more kid-friendly pizza, tomatoes and salt seem to be the best.
If you find that your sauce is too runny, you can put it on the stove in a large pot uncovered and cook down the ingredients for about 10 minutes.
If you don't want to use a tomato sauce, you could do a simple drizzle of olive oil. You could use a pesto sauce. You could do a garlic-based olive oil. Or a white-based/creamy sauce. It's fun to experiment with different sauces. Our go-to is the simple tomato sauce or just a drizzle of olive oil.
TOPPINGS
Cheese
We often just use shredded mozzarella and shredded parmesan. You can get a shredded pizza blend that usually includes mozzarella, parmesan, romano, provolone, asiago or other cheeses. It's hard to go wrong in the cheese department, but remember that ingredients matter!
If you get a wet cheese, like burrata, or fresh balls of mozzarella cheese in containers of water, you'll want to add it after the pizza has cooked or put it on for the last couple of minutes of cooking.
Veggies, etc.
Some of our favorite toppings:
Asparagus
Zucchini
Mushrooms
Bell peppers
Sundried tomatoes
Garlic
Red onions
Fennel
Olives
Green/spring onions
Leeks
Real meat (or veggie meat options in our case) are also delish:
Pepperoni
Sausage
Canadian bacon
My friend, Mathias, recently got us into this shaved asparagus pizza. It also works with shaved zucchini.
I've found that less is more with pizza, so don't go too crazy on the toppings.
MAKING THE PIZZA
When it's time to make the pizza, cut the dough in half. Flour your surface and kneed the dough to start getting it into the shape you want. You can use a roller but your hands and gravity/stretching work fine.
Your oven/grill needs to be as hot as possible. We use a cast iron pizza pan, but you can use a pizza stone instead. The stone/pan should be on the grill or in the oven as it's getting hot, then you transfer your pizza onto the hot stone/pan when it's time to cook. We drizzle olive oil onto our cast iron pizza pan before it goes on the grill.
You will want to get a pizza peel to make the transfer of the pizza onto the hot cast iron pan or pizza stone easier. A wooden or aluminum pizza peel with a long handle is key to not burning your hands! Put lots of flour on the peel before you put the dough on the peel.
Don't put your sauce and toppings onto the pizza dough until the oven/grill is ready or else the dough will get too wet. You want to top your dough and get it onto the grill within 2-3 minutes max. This can make serving pizza for larger groups a bit more stressful, but it's also part of the fun. In advance of actually cooking the pizza, you should have all your pizza doughs rolled out and ready, all of your toppings ready, and the sauce ready. Your pizza will be ready to eat in waves as it comes off the grill/oven.
We put the pizza together in this order:
Dough
Sauce
Cheese
Toppings (but some toppings can work under the cheese, too)
Your pizza will take anywhere from 8-15-ish minutes, but it really depends on your oven/grill. Put on a timer, and check the pizza after 6-8 minutes. You might need to turn the pizza half way through to get it to evenly cook. We like a little char on our crust, but you might not.
After cooking, you can top your pizzas with basil, arugula, or kale. For some pizzas, I put a pinch of red pepper flakes (either on top after it's cooked or tossed with asparagus, zucchini, or veggies before it's cooked), squeeze of lemon juice (over the veggies before or after it's remove from the oven/grill), sprinkle of truffle salt or few drops of truffle oil (add the oil after you remove the pizza from the grill/oven), or up to 3 eggs (bake pizza for ~8 minutes, break eggs on top, then finish cooking pizza and eggs together). I also recommend that you make enough pizza for leftovers and have it the next morning with eggs on top for breakfast.
While these instructions might cause some fear, it is really simple and fun to make pizza.
Enjoy, friends!