Making the White Bean and Roasted Vegetable Salad From the Heat Episode of Salt, Fat, Acid, Heat by Samin Nosrat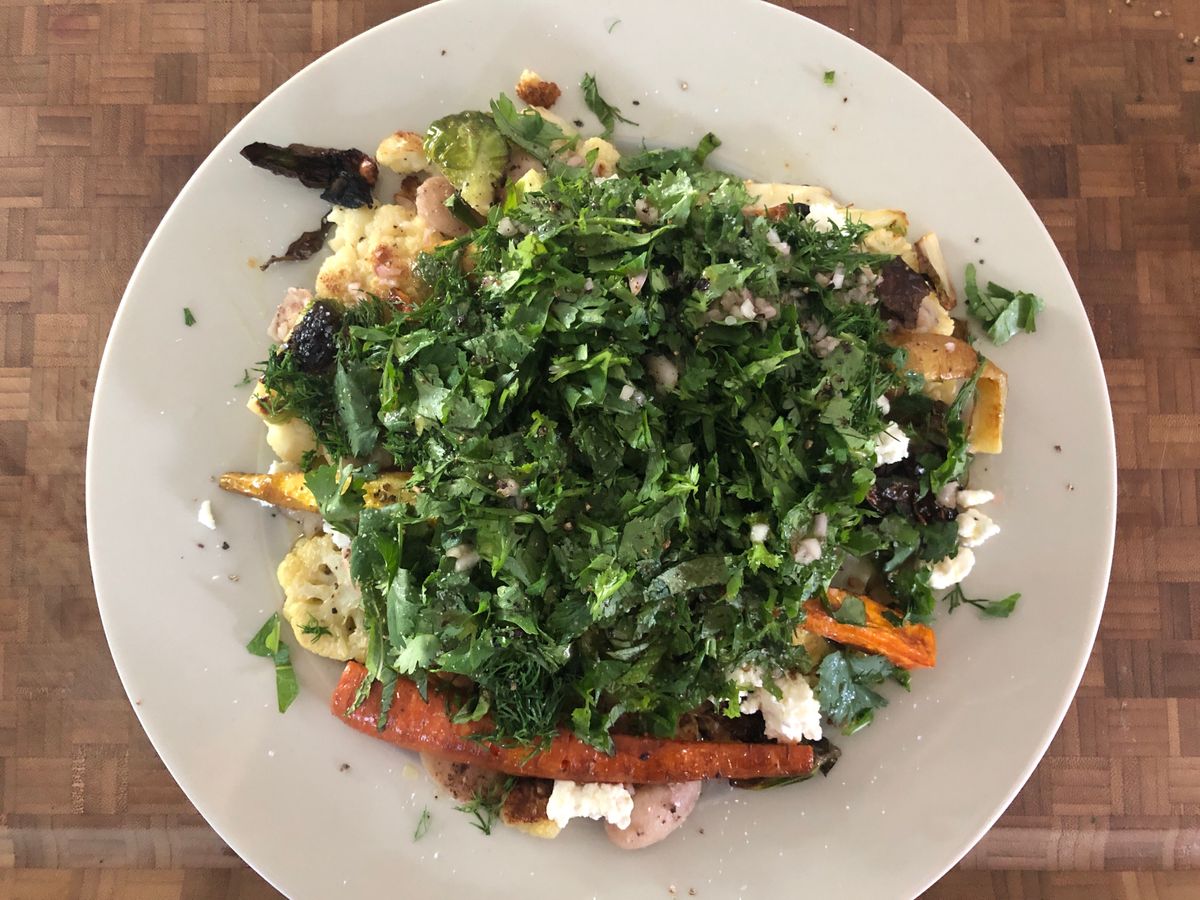 Okay, this salad is amazing.
When I first watched the Heat episode of the Salt, Fat, Acid, Heat series on Netflix, I was sure that I would make this salad. I then ordered the book, but sadly the recipe isn't included in the book. I searched online and found this recipe, but I wanted to provide some additional context.
The 15 minutes of prep stated in the recipe is a lie. I didn't calculate how much time it took me, but I'm guessing it was a few hours.  This salad isn't challenging, but there are quite a few steps. The beans themselves take 1-2 days of prep ahead of time. You'll easily use your 15 minutes just on getting the beans ready for cooking.
I haven't tried this, but in the winter you can substitute broccoli, sweet potatoes, turnips or any other root vegetable for the cauliflower, romanesco, and/or Brussels sprouts.  In the summer, substitute with zucchini, sweet peppers or eggplant.
Ingredients
Salad Ingredients
1 bunch young carrots (rainbow if possible)
1 small head cauliflower
1 small head romanesco (my local co-op and Whole Foods didn't have romanesco so we left this out)
1½ pounds Brussels sprouts, trimmed, outer leaves removed, and halved (quartered if very large)
2 cups cooked white beans, such as gigante, butter, cannellini, or navy beans, liquid reserved (I used these gigante beans)
4 ounces French feta cheese (preferably Valbreso), broken into large crumbles
Extra virgin olive oil
Kosher or Sea Salt
1 cup loosely packed cilantro leaves and tender stems (about 1 bunch)
1 cup loosely packed dill fronds, stems removed (about 1 large bunch)
1/2 cup loosely packed mint leaves (about 1 small bunch)
1/4 cup loosely packed basil
Red Wine Vinaigrette (recipe below)
Red Wine Vinaigrette Ingredients
1 tablespoon finely diced shallot
2 tablespoons red wine vinegar
6 tablespoons extra-virgin olive oil
Salt
Freshly ground black pepper
Preparation
For the vegetables and salad:
Place oven racks in lower middle and upper middle positions. Preheat oven to 425°F.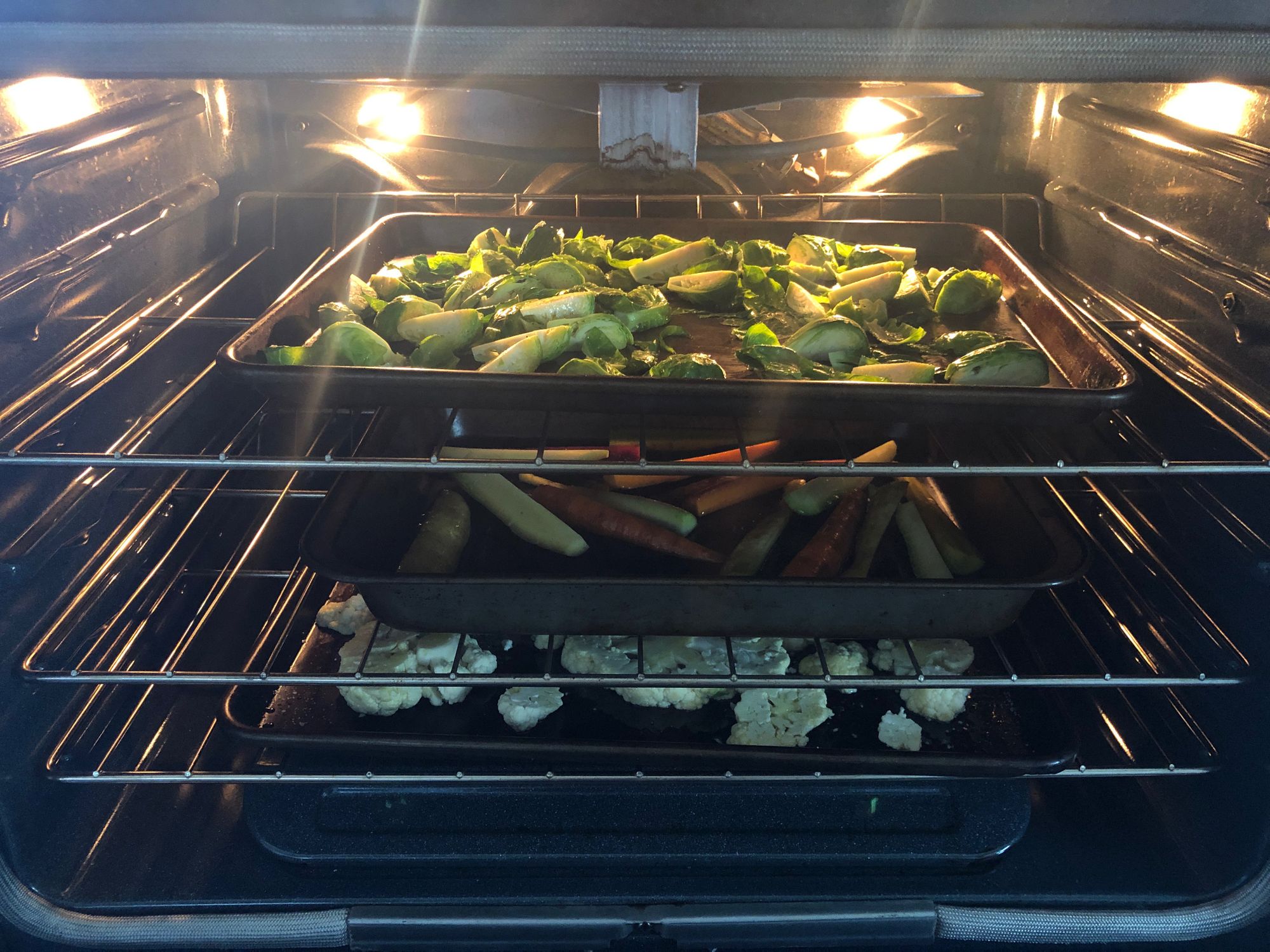 Halve or quarter Brussels sprouts through the stems, then place in a large bowl. Toss with enough oil to coat, about 3 tablespoons. Season with salt and place in a single layer on a baking sheet.

Place the carrots in the same large bowl and toss, adding more oil as needed to coat. Season with salt and place in a single layer on a second baking sheet.

Lightly trim the root end of the cauliflower and romanesco (if using), then cut into 3/4-inch-thick slices through the root. Drizzle about 2 tablespoons oil onto another baking sheet and lay slices in a single layer, keeping cauliflower on one side of the pan and romanesco on the other side. Avoid overcrowding the vegetables—they should not touch. (If needed use another pan for overflow.)

Place vegetables into oven and cook until tender and caramelized, about 26 to 30 minutes. Check on the vegetables after about 12 minutes. Rotate the pans and switch their positions to ensure even browning.

When the roasted vegetables are brown on the outside and completely tender when pierced with a knife, remove them from the oven. Set aside to cool for a few minutes.

Reserving the cooking liquid, drain beans and place into large bowl. Dress with 3 tablespoons vinaigrette and season with salt and 1 teaspoon za'atar. Add a little bean liquid to make it juicy. Taste and adjust dressing and seasoning as needed.

To assemble salad, layer cauliflower, romanesco (if using), carrots, and Brussels sprouts on a large platter. Drizzle with vinaigrette, sprinkle with za'atar, then spoon beans over vegetables. Sprinkle with large crumbles of feta. In a medium bowl, lightly dress cilantro, dill, basil, and mint with 1 tablespoon or so of vinaigrette and salt. Place atop salad and serve immediately.
Red Wine Vinaigrette Instructions
In a small bowl or jar, let the shallot sit in the vinegar for 15 minutes, then add the olive oil, a generous pinch of salt, and a small pinch of pepper. Stir or shake to combine, then taste with one of the vegetables and adjust salt and acid as needed. Cover and refrigerate leftovers for up to 3 days.
A little note about cooking beans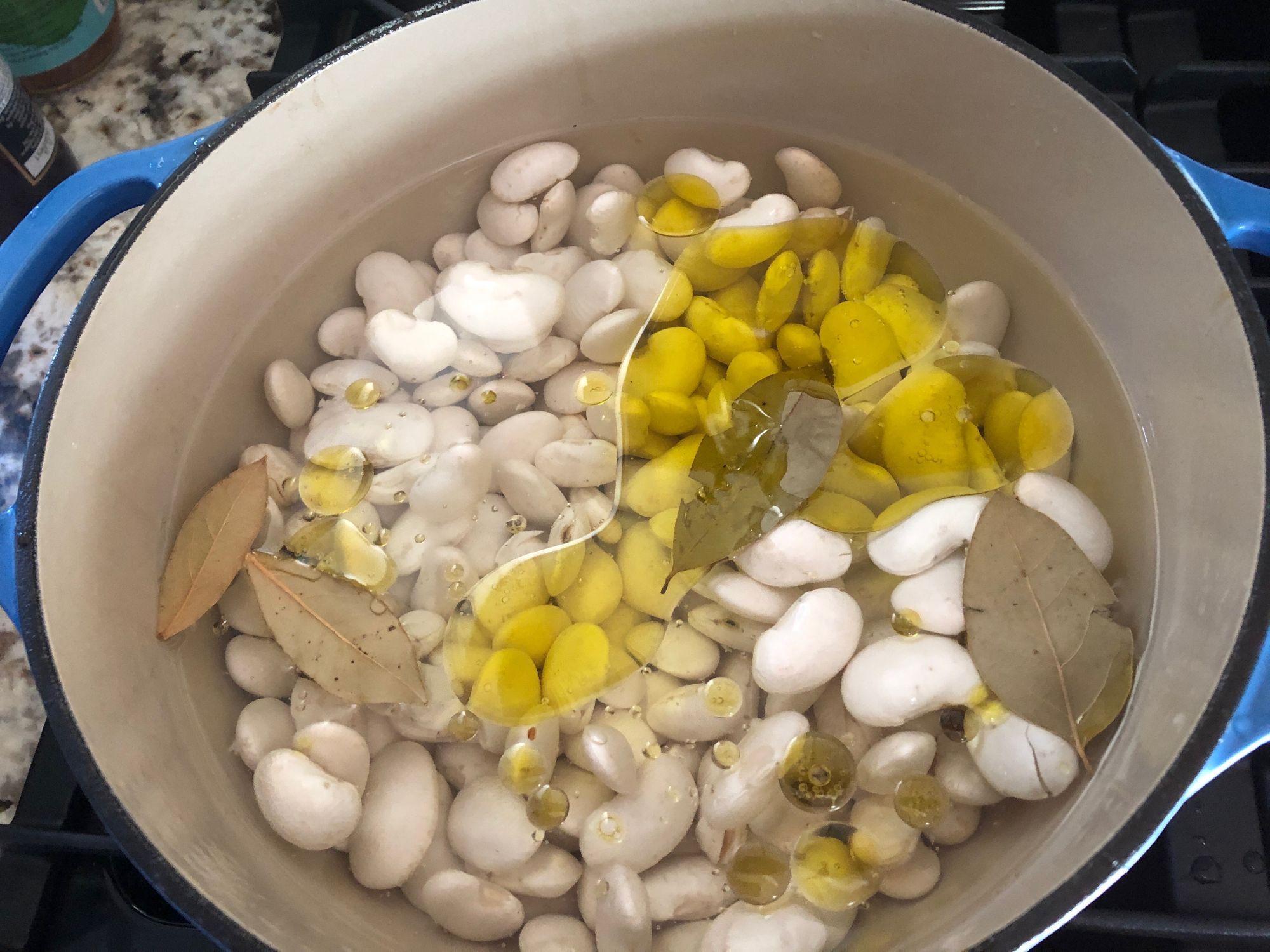 Cooking beans, whether dried or freshly shelled, is simple. I used dried giganted beans. To reduce the cooking time, I soaked them for 2 nights in water. For smaller dried beans, 2 days should work.
When soaking beans, keep in mind that 1 cup of dried beans will triple in size when cooked, yielding about 6 servings. Add a palmful of salt, and a generous pinch of baking soda, which will tip the pH of the pot toward alkalinity and help coax even more tenderness from the beans. Soak beans in the same vessel in which you plan to cook them, to save yourself a dish, and either refrigerate or keep in a cool spot on the counter overnight (or over 2 nights, for chickpeas or big, creamy beans such as gigantes). I live on the westside of Los Angeles where it's generally cool with beach temperatures, and I kept my beans on my counter for 2 nights with no problems.
When your overnight soaking is complete, drain the water, add fresh water, some olive oil, a few bay leaves, and some salt. Cook on a low boil for a few hours. Don't over boil your beans! The key is to pay attention and taste often. If you cook for 30 minutes too long, your beans will get mushy and no one wants that. Your beans should be soft and tender, but not falling apart.
Good luck and bon appetite!