We welcomed Mathias Meyer (aka @roidrage) to Reaction Commerce as our new Chief Technology Officer (CTO) late last year. At that time, we made a press announcement and intro'd him through a blog post, but there's more to the story that I wanted to share.
A little more than a year ago, Mathias posted this tweet stating that he was looking for something new:
Hey folks, I'm looking for a new role as VP Eng or CTO, remote or Berlin. I care about healthy and diverse engineering teams, engineering culture. DMs are open or mathias@paperplanes.de. Let's chat! More details on my background and areas of interest here: https://t.co/ouexer0Trd— Mathias🤘Meyer (@roidrage) May 24, 2018
I just happened to see his tweet shortly after he posted it at 07:19 Pacific Time, and I figured it would generate quite a bit of interest, so I dropped everything to send a quick email with a bit of heartfelt reflection for the things I believed we mutually appreciated. I pressed send at 07:46 Pacific Time. Because of his accomplishments and following, I thought it was a long shot, but nonetheless I sent my thoughs on personal check-ins, minimum vacations, open source, and leadership coaching. I also knew that we both had experience with Reboot, a wonderful leadership development and coaching firm, and that we were both fans of Reboot's founder, Jerry Colonna. I had participated in a Reboot CEO Bootcamp, and I was participating in a Reboot CEO Circle, so I mentioned these things in my first email to Mathias in hopes of making a connection.
Our Initial Conversations
I've been a long-time follower of Mathias. I've always appreciated and admired his writings and perspectives. Without even talking, I already had confidence in his qualifications and abilities, but as the likes and retweets added up on his initial tweet, I sensed that the possibility he'd join us was an even a longer shot than I'd originally anticipated.
Our first video call was unlike any other "interview" I've done before, and that's because we started with "stoplight" personal check-ins. From the start, and even to this day, our weekly one-on-ones have been personal and lovely.
I explained to Mathias that more than a CTO, I was looking for a partnership. We'd closed our Series A in late 2017, and I wanted someone to ride next to me on this crazy journey. I had also recently transitioned out of a challenging co-founder relationship, and I was feeling a bit lonely and afraid. Mathias had also experienced similar challenges, and as a result, we entered into this new relationship somewhat hesitant without really realizing it. Even with the hesitation, we were both eager to build a new kind of partnership. I knew that Reaction needed leadership and management on the engineering side of the organization, but the role I was looking to fill was also broader and more complex, and that seemed to match Mathias' strengths and interests.
Because I knew there were other companies he was considering (about 50!), and because I believe in being deliberate, I opted for a very intentional approach to our conversations. It was scary to be so vulnerable, but I sensed that it was required and would likely even be appreciated. Early on, I shared a document that outlined different potential scenarios and approaches to how we could work together that included areas of focus, title suggestions, and thoughts on compensation. It was awkward to throw something like that out there, but it seemed to help as it gave us a framework to get started with an interim approach while moving toward a full-time role.
Staying Connected to our Origin Story
Our origin story centered around being intentional and explicit about the type of partnership we both desired and the type of company we each wanted to build. What connected us at the beginning was the idea of a transparent dynamic between us more so than our actual roles and responsibilities. We're running an early-stage technology company. On any given day, we're dealing with multiple concerns and topics, and we're doing it across many time zones. It's easy to forget and to stray from the ideals and purpose that connected us together in the first place.
We're almost a year into things, and we've already found that we need to be better about making time for immersive connection, especially when we meet up in person. We recently got together for an offsite where we created a "blueprint of we" document to help guide and remind us about our values and desired behaviors. We've learned that our partnership requires deliberate attention and practice, and that it's important to step back and to be mindful about what brought us together. We're now navigating what it means to be CEO and CTO, what it means to be a boss and a manager, what it means to be business partners and friends. It's simultaneously scary and lovely.
One of the things we didn't properly address until we were finalizing details is how we would navigate the time zone difference between us. With 9 hours separating us, we realized that this could be one of our biggest challenges. We talked about the importance of our personal lives and that we would not be able, nor even interested in doing heroic schedules. It's not been easy. We've both had to make personal sacrifices, and that's been hard.
We're also adjusting to our cultural and language differences. It's been fascinating to see and hear about the world through the lens of a European. We're still learning about each other and deciphering our communication styles and patterns. This topic alone could easily be a future blog post!
Back to the Origin
I don't recall how I first came across Mathias on Twitter, which then led me to his blog, but I knew pretty early on that he was the real deal. So when he posted that tweet about looking for his next thing, I knew I had to act.
Fast forward to today, and we recently had the chance to talk with Jerry on the Reboot Podcast about our story. We've come full circle. Enjoy!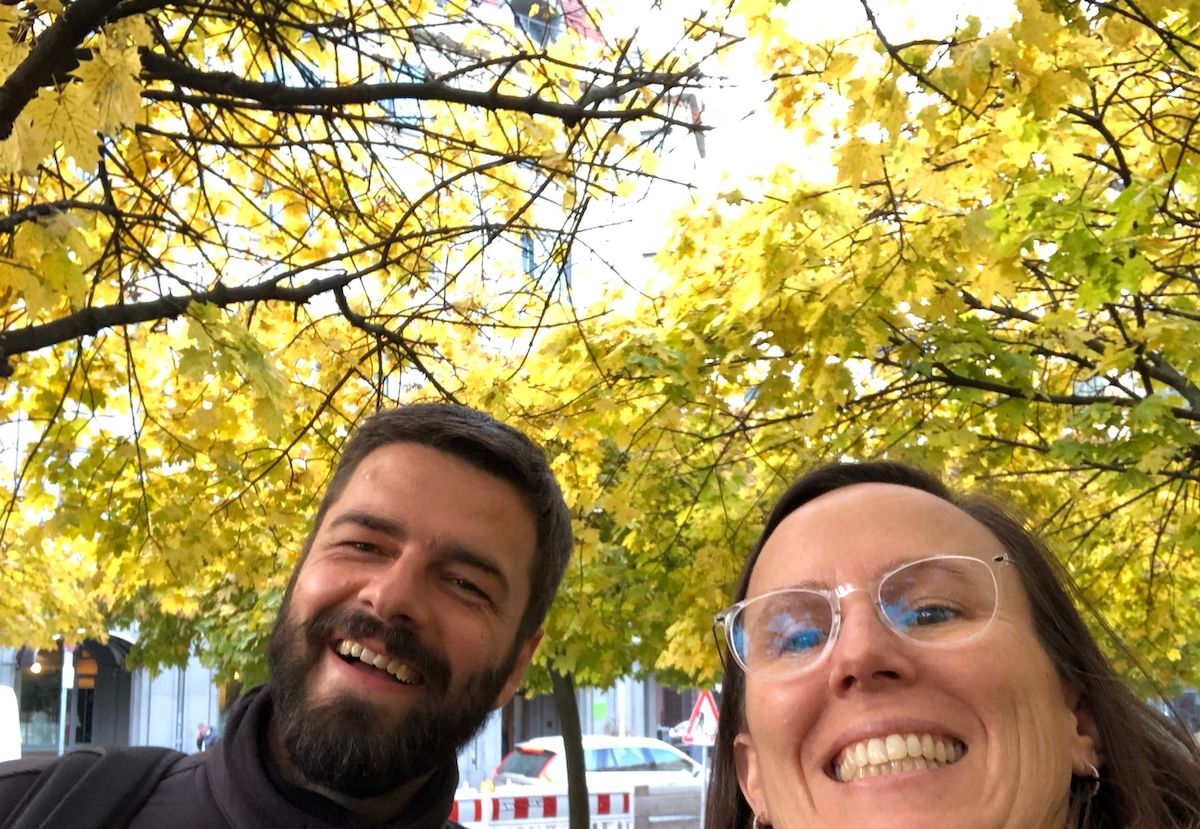 ---
Header photo of Mathias, Sara, and Grace from January 2019 in Santa Monica, CA.