Hello, I'm Sara! The is my README, aka my personal how-to guide. This README should give you some insights on how I operate. It captures what you can expect out of an average week with me, how I like to work, my guiding principles, and some of my quirks and oddities. My intent with this README is to accelerate and deepen our working relationship.
Why Reaction Commerce
I started and continue to work at Reaction because I firmly believe an open, freely available commerce platform is the only option for retailers and brands to be able to compete and for us to be successful. One size doesn't fit all for commerce, so a fully open and extendible platform is critical for retailers to be able to scale and grow.
I also firmly believe that an open and inclusive product will produce the best ideas and outcomes that far exceed what any one company or team could achieve. I've got a David vs. Goliath chip on my shoulder. I almost always root for the underdog. I firmly believe that we are stronger together than we are individually. My purpose is to see Reaction Commerce, the company and the open source codebase, live beyond all of us. When we are wildly successful, Reaction Commerce will be a force of nature in the world of commerce platforms. My purpose here is to do everything possible to see our company, our product, and our team thrive.
Moments and places that shape me
It's been the biggest year ever.
My dad passed on July 18, 2017 (which was five days after we first pitched GV). Just over six months later, my mom passed away on January 30, 2018. They were married for 57 years. Being present during their life, but especially their final years, months, and days was a blessing and privilege. It was also insanely hard. Their memorial celebration and graveside service was on March 24, 2018. My dad was an entrepreneur and business professional, and my mom was an artist. Right brain. Left brain. I am the perfect blend of my parents. They were more than parents to me. They were people I admired. I miss them every single day.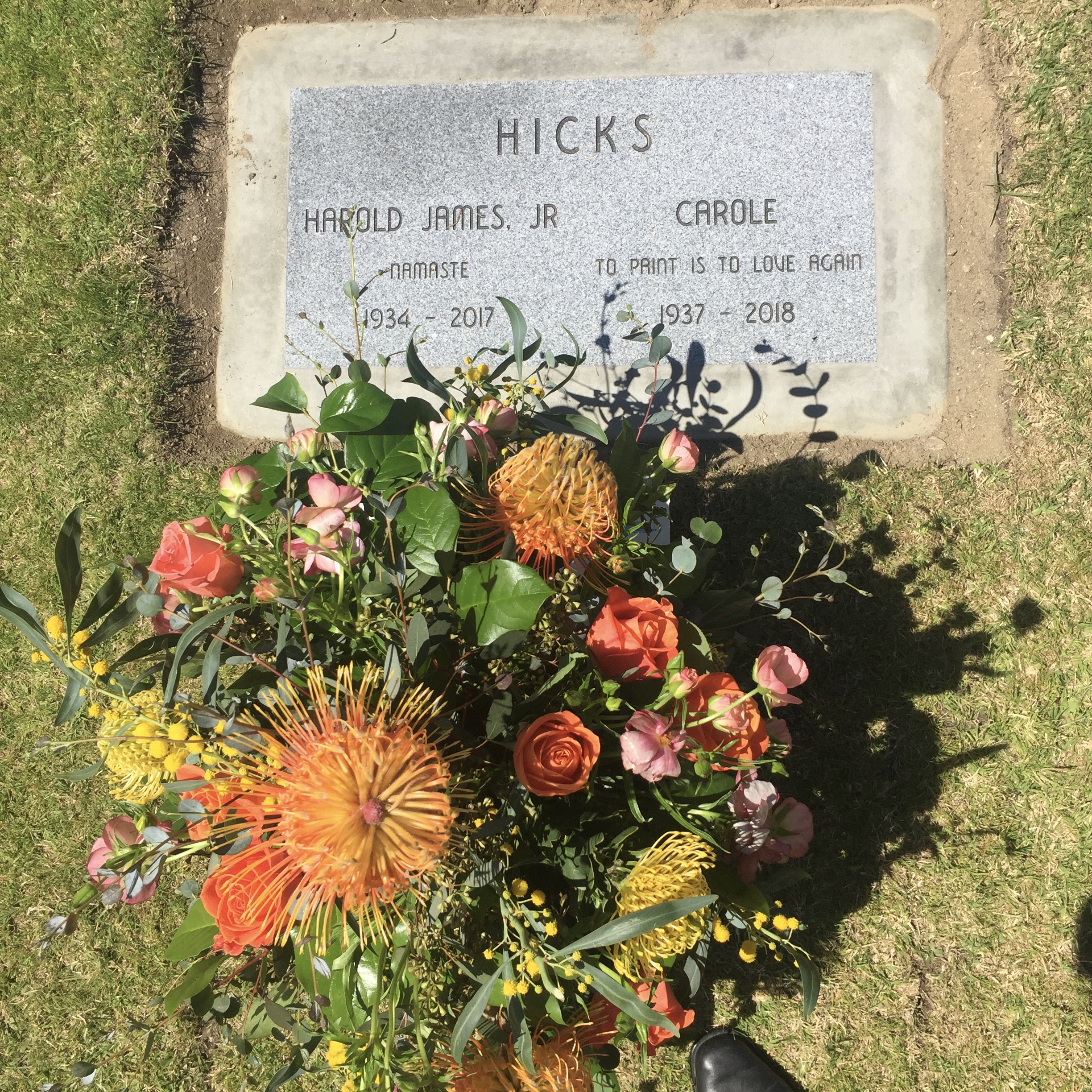 After such a big year of beginnings and endings, I'm thankful for the simple things. I have a renewed perspective on what matters. More than ever, I value quality connections and meaningful conversations. I love to visit the mountains, the desert, and the beach on a regular basis. I also love to visit museums and galleries. I am energized by the outdoors and by art and design. My days begin and end with the person and pup I love most. We're in the midst of buying a house in an area we've always loved. It's a big moment in a big year. Life is good.
My personality assessments
StrengthsFinder
Achiever

"You have an internal fire burning inside you."

Relator
Arranger
Individualization
Input
Enneagram
My average week
If you report directly to me, we'll have a 1:1 every week for at least 50 minutes. This meeting discusses topics of substance, not just updates. Of course, it's cool for us to talk status and project updates. I keep a shared Google Doc to capture topics for our 1:1s. When either of us think of a topic, it gets added to that document.
If you don't report directly to me, we'll have a 1:1 every two months for at least 25 minutes. I intend to do this for as long as possible, but as we grow I might have to modify the frequency or approach. That said, if you want to meet with me at any time, just send me a message on Slack, and we'll schedule some time.
We'll have a leadership team meeting every week for 50 minutes. We have a shared document which captures agenda topics, wins, and FYIz. Similar to 1:1s, we aren't only discussing status updates at this meeting, but we'll engage on issues of substance that affect the whole team.
You can Slack me 24 hours a day, 7 days a week.
If I am traveling, I will let you know in advance, and I will mark it on my calendar. I will try to make sure that all our meetings still occur albeit with time zone considerations. There may be times where I have to cancel. I'll try to give you as much notice as possible if I have to cancel or reschedule.
Most of our meetings will be via Zoom video conferencing, unless we work in the same location, in which case we'll meet in person. My favorite type of meeting is a walk and talk, so if we don't need laptops and the weather is good, we'll walk.
I work a bit on the weekends. This is my choice. I do not expect that you are going to work on the weekend. I might Slack or email you things, but unless it says URGENT, it can always wait until work begins for you on Monday.
My guiding principles
People first. You'll often hear me say, "It's always about the team." Or, "It's always about the people." I believe that happy, informed, and productive humans build fantastic products and companies. I optimize for people. Other leaders will maximize the business, the technology, or any other number of important facets. Ideological diversity is key to an effective team. All perspectives are relevant, and we need all these leaders, but my bias is towards building productive, happy people.
Leadership comes from everywhere. While I believe managers are an essential part of a scaling organization, I don't believe they have a monopoly on leadership, and I work hard to create other opportunities for non-managers to lead. I greatly value people who lead and take initiative beyond defined roles.
Inherent trust. I believe that most humans are trying to to do the right thing. It is important to me that humans and animals are treated fairly. I start with an assumption of positive intent for all involved. This has worked out well for me over my life.
Action always. I heavily bias towards action. After all, my core strength in my assessment is Achiever. I believe starting is the best way to begin learning and make progress. This is not always the correct strategy. This strategy annoys those who like to debate and plan every detail before acting. I believe in continually fixing and iterating small things.
Details matter. I pay attention to details. It's almost a flaw. I can't not look at something or experience something without thinking about ways to improve it. I believe quality assurance is everyone's responsibility and there are bugs to be fixed everywhere, all the time (not just in the code).
My preferred meeting protocol
I am in a lot of meetings. My calendar is visible to everyone at Reaction Commerce. If you have a question about a meeting on my calendar, ask me. If a meeting is private or confidential, its title and attendees will be hidden from your view. The vast majority of my meetings are neither private nor confidential.
My definition of a meeting includes an agenda and/or intended purpose, the appropriate amount of productive attendees, and a responsible facilitator running the meeting to a schedule. If I am attending a meeting, I'd prefer starting on time. If I am running a meeting, I will start that meeting on time, and I will end it early. I've wasted a lot of time in poorly run meetings. Truth be told, many of them were facilitated by me. I now work very hard to optimize meetings for the best outcomes.
If you send me a presentation deck or a document a reasonable amount of time before a meeting, I will read it before the meeting and will have my questions at the ready. If your document has spelling or grammar errors, uses our old logo, has font or style inconsistencies, or is poorly formatted, I'll have a hard time seeing past it. That's just how I operate. If you don't want me to notice that stuff, then keep your document as simple as possible. Attention to details matter. If I haven't read your materials, I will tell you. Regardless, I suggest we start the meeting with 5-10 minutes of study hall so that everyone can silently review the materials.
If a meeting completes its intended purpose before it's scheduled to end, it should be ended early. If it's clear the intended goal won't be achieved in the allotted time, the meeting should be stopped before time is up and a plan should be made to determine how to finish the meeting later.
My ideal meeting
Meeting starts on time.
Meeting starts with 5-10 minutes of "study hall" where we are silently reading materials (that clearly outline goals) for that meeting. (See Bezos' six-page narrative concept.)
No laptops, tablets, or phones allowed. If via Zoom, everyone turns off notifications.
Meeting is generally regarded as a worthwhile use of time (e.g. agenda exists, materials shared in advance, participant list is not excessive).
Meeting ends early, and there are documented follow ups and assigned action items.
A typical week
Like a yoga class, each day/week/month/quarter/year has a flow that ramps up and ramps down. I believe in the power of routines, rhythms, and cadence.
Each weekday generally looks like this:
9am-11am
11am-3pm
3pm-5pm
This doesn't mean that I always work from 9-5. This is simply how I maximize my core working hours where I overlap with most people. In general, though, I think it's unproductive to work extreme hours. I firmly believe that most people who claim to work insane hours are doing it wrong on so many levels.
Planning/Logistics brain. I like to use the first couple of hours of my working day and my working week to focus on planning. Truth be told, I often do this on Sunday afternoons for the week, but I still like to have Monday morning to ramp up. At the end of the week, I like also like to focus on follow ups, logisitics, and executing. This is generally quiet, headphone-on type of work.
Listening/Empathy brain. As the week starts to accelerate, I get into the groove, and I can focus on coaching, mentoring, interviewing. This usually exists in the form of 1:1s or recruiting interviews.
Strategy/Tactics brain. As the week ramps up, I also am best equipped to focus on strategy, growth, leadership, and management.
I also purposely block my calendar to make time for exercise. I've found that if I'm not conscious about this, then it is less likely to happen. Make exercise a conscious priority.
Some random notes
I can sometimes be quiet and reserved, but I'm an extrovert. I deliberately try to have at least one personal or professional social engagement/networking event each week. This can be in the form of a coffee, lunch, dinner, walk, hike, or the like. I generally prefer if it's not centered around a happy hour. I have a personal CRM (Airtable FTW) where I know exactly how long it's been since I've connected with someone. Depending on the person and relationship, I determine a frequency for how often I want to engage. I don't like letting relationships linger or lapse. This isn't a perfect system. It's a work in progress. If I could go back to my early career, I'd spend more time cultivating relationships. It's everything.
When I ask you to do something that feels poorly defined you should ask me for both clarification and a call on importance. I might still be brainstorming. These questions can save everyone a lot of time.
When you need to ask me to do something, ask me. I respond poorly to being told what to do. When you need something, ask me. When you aren't sure how to do something, ask me to show you or help you. When you are stuck, tell me. When you aren't clear on something, ask me for help. Don't not ask.
If I am on my phone during a meeting for more than 30 seconds, say something. If I appear distracted during a meeting for more than 30 seconds, say something. My attention wanders.
Ways to best work with me
I check Slack/email/texts proactively, not reactively. I think interrupts in the form of chats, alerts, notifications, etc. are incredibly unproductive. I've turned off all notifications and alert icons on my phone, watch, and laptop. The best way to communicate with me is via Slack. Please don't put something in Slack, and then verbally tell me you put something in Slack. I'll see it eventually, I promise. Send me a message on Slack, and wait until I reply. If I spend my day reacting to Slack or email, I'll never get anything done.
If it's urgent/on fire, text me, call me, and/or grab me. Please don't interrupt me unless it's on fire. I know I just wrote that I only check things proactively, but I'm pretty sure I'll respond quickly. If I don't and it's on fire, repeat.
Before adding something to my calendar or requesting a meeting, Slack me some information. I operate best when you send me stuff to review in advance of our meeting. I like to marinate on things before sharing thoughts and opinions. If I don't have the time to marinate, I might be quiet or reserved at first. Eventually, I'll formulate my thoughts, and then I'll have opinions and feedback to share.
I prefer meetings to be scheduled between: 11am - 3pm PT. If your time zone makes that a challenge, I'm flexible. I use "Speedy Meetings" so a 30-minute meeting will be 25 minutes, and a 60-minute meeting will be 50 minutes. I highly recommend enabling that as the default setting on your calendar.
I work hard to optimize and minimize distractions and to prevent decision fatigue. I regularly defrag my calendar to reduce context switching and cognitive overload.
I'm a morning person. I usually wake up around 5am PT daily. I strive to start each day reading, meditating, journaling, and/or exercising. I try not to look at email, Slack, etc. right when I wake up.
Things that prevent me from doing my best
People who say they will do something then don't follow through cause me stress. People who gossip are not people I admire. People who complain are hard for me. People who don't take ownership or initiative are confusing to me. People who need to live in a very defined box are complex to me. If something is noticeably broken or not attended to, it's in my nature to do something about it. Many times, I delegate these tasks, but I can't ignore it. People who ignore it irk me.
Here are a few of my life hacks
My mobile phone and watch:
Grayscale mode
No social apps
No notifications (including notification icons)
24x7 DND mode, only calls from my favorites list pass through
No work apps (including Slack)
No phone/tablet/laptop in bedroom
All non-essential apps go in a folder on the second screen.
Only two screens
Only one app, OmniFocus, in the dock bar
My laptop/desktop:
24x7 DND
No notifications/icons
Clear tabs daily
OmniFocus for life
Speedy Meetings
Here are my communication preferences (in priority order):
In-person or Zoom video (but please schedule it first)
Slack
Text
Email
Phone (but don't leave a voicemail/text a message instead)
Snail mail
LinkedIn, Facebook, etc.
My (physical) notebook
I always have a physical notebook with me. I try different styles of notebooks all the time. I also like to try different pens. I like a good old fashion checklist.
A few fun facts
I'm fourth-generation Palm Springs.
I like even numbers. I'm a bit OCD about it. I only eat an even number of M&Ms. I only listen to audio on an even volume number. If I eat one cookie, I break it in two. It goes on…
Changelog and props
Thanks to Rands and Lara Hogan for sharing their how-to guides and their thoughts on leadership. I've adopted many of their ideas here. I highly recommend both of their blogs.
This README is a living breathing document. I will update it frequently and would appreciate your feedback via the comments.
v1.0.0: May 7, 2018 - Shared at Reaction Commerce All Hands
v1.1.0: May 25, 2018 - Typos, clarifications around status updates, and, yes, this really needs to go into GitHub for actual version control.